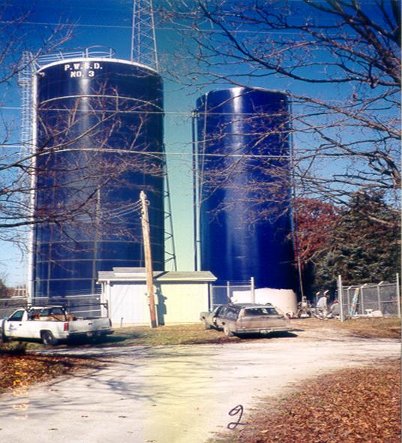 Both standpipes are about 64 feet tall. Both are supplied by the same well ( in the building in front of the station wagon.)The tank on the left is an A.O. Smith, bolted, 300,000 gallon, single piped tank The tank on the right is a welded, 250,000 gallon, single piped tank, being renovated; new insect/frost proof vent, overflow to grade, additional ground level manway, SP10 interior and SP6 exterior blast and Tnemec epoxy poly coating systems.
The water district wanted the tank colors to be similar.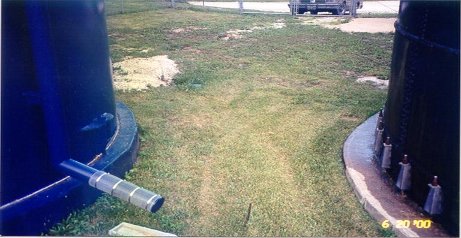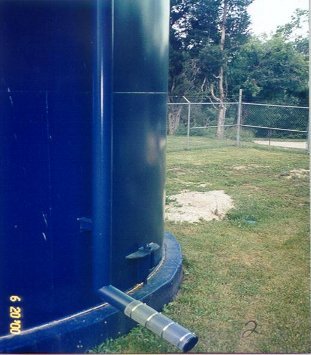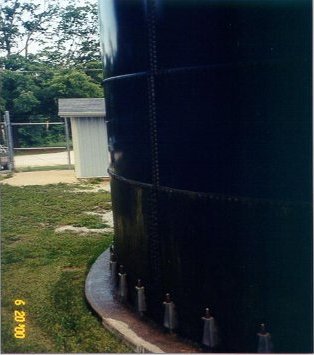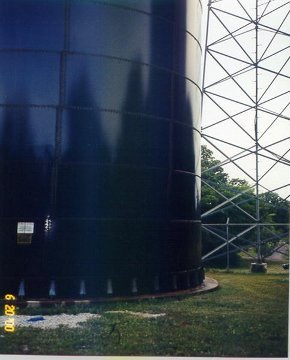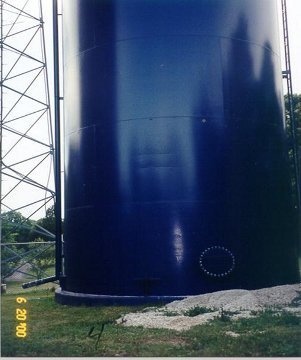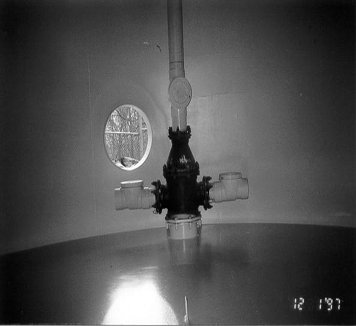 This was the first full size test installation.
The tank has a single 12 inch fill/discharge pipe that runs about 100 feet to the county road. There it reduces to an 8 inch distribution main. This triple check system has two (2) 6 inch intakes taking water from the tank, but they will not allow water into the tank.
It has one (1) 6 inch upper valve that lets water into the tank, but will not allow it to go out.
The extended fill pipe goes up about 47 feet, guaranteeing an automatic minimum system pressure of 20 PSI when refilling the tank. This system can put the water in at or near the top and take it out from the bottom just as surely and more economically than actually double piping a single pipe tank.
THIS POSITIVE RETENTION CIRCULATION SYSTEM IS AT IT'S BEST IN STANDPIPES AND GROUND STORAGE TANKS BUT IT IS ADAPTABLE TO AND BENEFICIAL IN MOST WATER STORAGE FACILITIES.