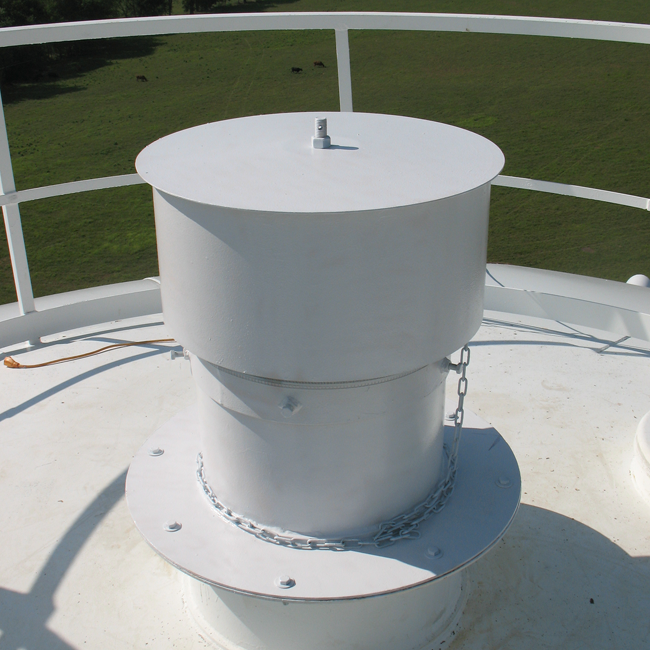 T. A. P. Co. patented vents (patent # 5,816,288) provide the most effective protection against insect invasion and frost build up. Our vents are fabricated from carbon steel, aluminum or stainless steel and are installed on steel or concrete water storage tanks. Our vents can be used as replacement vents or new installations. They meet AWWA D-100 05 Standards, Ten State Standards and MO. DNR Design Guide Requirements. Preventing possible damage to your tank with a T.A.P. Co. vent is much easier than fixing future problems caused by a vent freezing up.
Standard vent sizes range from 4" to 40" but custom fabricated vents are available. All models are economically priced.
These vents have no moving parts and are virtually maintenance free. Replacement screens and band clamps are readily available.
Vents can be installed as replacements with minimal time and labor involved. In most cases a flat blade screw driver and a wrench is all that is needed.
Carbon steel models are grit blasted and prime coated with NSF approved epoxies.
A finish color coat must be applied in the field.
Tamper proof models are an option.
Vent stacks are available as weld-on, threaded, or with flanges for bolt-on applications.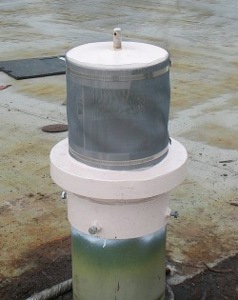 The inner screen is #18 fine mesh flexible fiberglass. Not only does this screen prevent insects from entering the tank, it is also frost proof. Any ice that may try to form on the screen is quickly and effectively removed by the flexing of the screen, if negative or positive pressure is applied.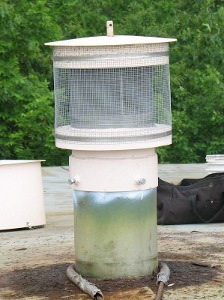 The #4 galvanized outer steel mesh prevents birds, rodents or large insects from damaging the inner screen. Stainless steel band clamps are used to hold both in place.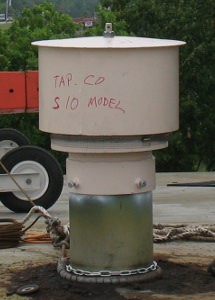 A top cover is placed over the entire unit. This cover will divert blowing dust, cross winds and freezing rain. A chain is attached to the top cover and around the vent stack. This will allow the cover and other parts to be removed for maintenance without having them fall off the top of the tank. Top center bolt is drilled to accept a security lock.
Vent Air Flow Rates:
| | | | | | |
| --- | --- | --- | --- | --- | --- |
| Model | Stack Openings | Inner Screen | Air Speed | Air Speed | Intake and Withdraw |
| | Square Inches | Square Inches | Stack FPS | Screen FPS | GPM |
| S 4 | 12.57 | 70 | 22 | 3.94 | 860 |
| PD-SD 8-5 | 19.64 | 84.5 | 22 | 5.12 | 1350 |
| S 6 & SD 10-6 | 28.27 | 102 | 22 | 6.1 | 1940 |
| S 8 & SD 12-8 | 50.26 | 165 | 22 | 6.71 | 3450 |
| S 10 & SD 14-10 | 78.54 | 236 | 22 | 7.34 | 5400 |
| S 12 & SD 16-12 | 113.01 | 280 | 22 | 8.82 | 7700 |
| SD 18-14 | 153.93 | 352 | 22 | 9.57 | 10,500 |
| SD 20-16 | 210.06 | 402 | 22 | 10.77 | 13,500 |
| SD 24-20 | 314.16 | 628 | 22 | 15.24 | 21,500 |
| S 24 | 452.39 | 905 | 21.32 | 10.63 | 30,000 |
| SD 30-26 | 531.00 | 1470 (use 24" screen) | 22 | 7.86 | 36,000 |
| SD 36-32 | 804.25 | 1810 (use 24" screen) | 22 | 9.75 | 55,000 |
| SD 40-36 | 1018.00 | 2036 (use 24" screen) | 22 | 10.99 | 69,000 |
| SD 48-44 | 1520.00 | 3040(use 30" screen) | 21.11 | 10.55 | 100,000 |